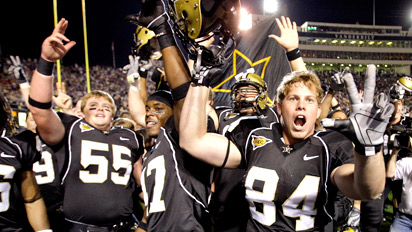 Auburn Got "Vandy-lized"(AP Photo/Mark Humphrey)
Nashville is known as the Country Music Capital where thousands upon thousands of sad country songs have been written and sung over the last half century. One of the most famous being "I'm So Lonesome I Could Cry" by the legend, Hank Williams. And after last night's losing performance by my Auburn Tigers here in Nashville, I honestly believe that given a little time I could write a few of those sad country songs myself. Here's just a list of a few I come up with so far:
"Tiger Blues in Nashville"
"Just Another Music City Heartache"
"Watching the Game, Singing the Blues"
"Defense Goes to Heaven, Offense Goes to Hell"
"There's Pain on the Plains"
"Tear in My Yazoo Beer (After an Auburn Loss)"
"The Night the Season Died"
"Everyone Loses to Vandy, Just Not in Football"
"The 'Dores Broke My Heart"
"Tears of Tuberville"
"Tame My Tigers and My Heart"
"The Tigers Went Down in Nashville"
"Vandy Broke My Heart, My Achy Breaky Heart"
Cheeseball, yes! But I'm honestly trying to find humor in the heart-breaking loss to Vanderbilt last night. Jill was an absolute gem in getting me a ticket to the game, and at first I thought I was going to see a much different Auburn team offensively than what had shown up the last 5 games. Unfortunately, a fast first quarter scoring performance to get to 13-0 was followed by a painful 3 quarters of unproductive offense. Vandy held the Auburn offense in check the rest of the game while their offense scored just enough to win the ballgame (14-13). I'll give it to Vandy, they have a small school, no football tradition, and such a small stadium, but that didn't keep the campus from being electric last evening. And the Commodores aren't a bad team by no means. It's just knowing how much more talent Auburn has, and how little we've managed to use it. Just goes to show how important coaching is in developing the players and using their abilities to the fullest to win. Of course, this loss hurts for many reasons and one of the most prominent is the because we call Nashville home, and now I must endure some of the weirdest and most humbling taunts from a fanbase ever...from Vandy fans. Ouch!