It's Friday, and yes Janet we have been slackers this week with the blog. OHHHH, I just called out one of our readers!! Haha. No worries, the blog is back just in time for the weekend. My parents have bravely made the drive up to Nashville despite
gas shortage fears
looming in the Middle Tennessee area. According to the Tennessean, 85% of area gas stations are empty. Does this make sense to anyone else?
By the way, today was
Talk Like a Pirate Day
. In honor of that, I give you my joke of the day.
Q: Of all of the letters of the alphabet, what is a pirate's favorite letter?
A: That would be the letter "RRRrrrrr!!!"
Q: What would a pirate's keyboard look like?
A: See below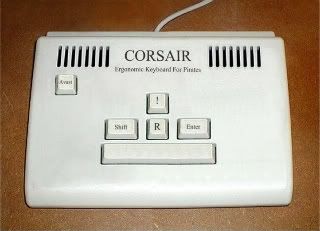 And just so you know, we're having issues with our A/C again. I came home after work this evening to the house being at 78-80 degree temps. I've turned off the A/C in hopes that the pipes may have frozen up, but I'm still a bit frustrated with this since we now have a brand new A/C unit, which was installed only a few weeks ago. Thank goodness we live in Middle Tennessee where nightly temps for this time of the year drop into the low 60's. Windows down tonight!
Finally, I give you some football talk. Tomorrow is a big day for my Auburn Tigers as they take on division rival, LSU. Those Tigers are defending national champions and come in ready to battle my Tigers in a Saturday night showdown at Jordan-Hare. I think that alone is a big positive since Auburn is notorious for playing big in night home games. Also I must mention since my dad is here that Georgia is traveling out west to Tempe to play Arizona State. Both big games will be on tomorrow night. And all the football craziness begins with ESPN's College Gameday in Auburn tomorrow morning. Awesome!